This blog is tracking major news, updates, poll data, examples of media bias and more on the 2022 midterm elections.
Click here for a map of key 2022 races to watch and more 2022 election information and resources.
---
Pence Supports Brian Kemp in Georgia Primary, Splitting With Trump
May 13, 2022
Get AllSides in your Inbox
Former Vice President Mike Pence will campaign for Georgia Gov. Brian Kemp — who former President Donald Trump has vocally opposed — ahead of the state's primary election on May 24.
Pence will attend a rally supporting Kemp's candidacy on Monday. In a Friday statement, the former VP called Kemp "one of the most successful conservative governors in America." Trump has criticized both Pence and Kemp for certifying the 2020 presidential election despite his objections. The former president has endorsed Kemp's opponent, former Sen. David Perdue.
RELATED: Draft Supreme Court ruling puts abortion in spotlight in Georgia GOP primary battle
---
Florida Judge To Block Republicans' Congressional Redistricting Effort
May 11, 2022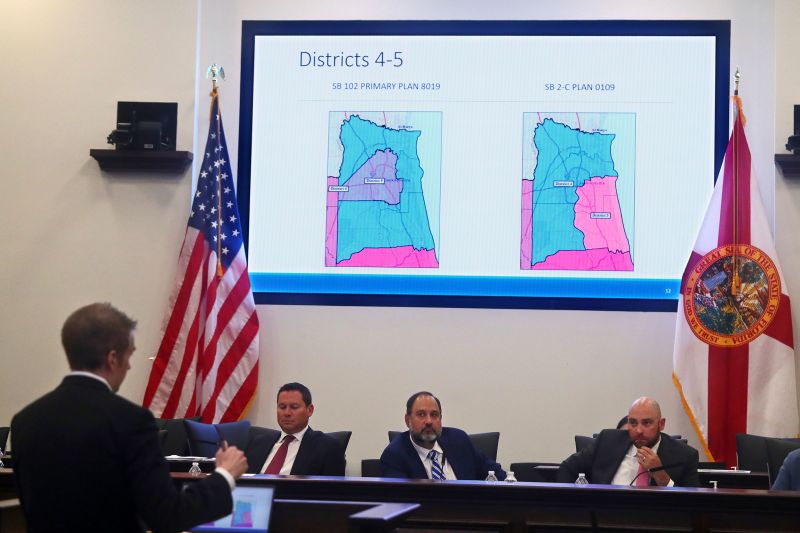 Phil Sears/AP
J. Layne Smith, a Florida circuit court judge, said he would issue a formal order to block a portion of a new congressional map being adopted by Republicans.
Smith found that the map was unconstitutional under the Fair District amendment "because it diminishes African Americans' ability to elect the representative of their choice." The map has been challenged by several voting rights groups as it would erase two districts represented by Black Democrats, giving Florida Republicans an advantage in as many as 20 of 28 districts. Gov. Ron DeSantis, who drew the lines, wanted to specifically dismantle Florida's fifth congressional district because it stretched 150 miles from Tallahassee to Jacksonville.
RELATED: Stung by redistricting rulings, Republicans target state court elections
---
Alex Mooney Defeats David McKinley in WV GOP House Primary
May 10, 2022
Rep. Alex Mooney defeated Rep. David McKinley in the GOP primary for West Virginia's 2nd Congressional District, further proving the power of an endorsement from former President Donald Trump.
NBC News (Lean Left bias) noted that Trump backed Mooney after McKinley voted for the bipartisan infrastructure package and the effort to create a commission to investigate the Capitol riots.
RELATED: Breaking Down the 2022 Primaries in West Virginia and Nebraska
---
Latest Polls Put DeSantis Up Big in 2022 FL Gubernatorial Race
May 9, 2022
Rebecca Blackwell/AP
The latest polling averages from Florida predict a big win for Gov. Ron DeSantis in his 2022 gubernatorial bid to remain governor of the Sunshine State.
Polling averages collected by RealClearPolitics (Center bias) project decisive wins for DeSantis, both in the primary and in the general election, regardless of who his eventual opponent is. Democrats Charlie Crist and Nikki Fried are the leading candidates to win the Democratic gubernatorial primary in Florida.
RELATED: DeSantis Signs $1.2 Billion Tax Relief Package to Combat Inflation