See the latest on the Israel-Hamas conflict from sources across the spectrum as AllSides tracks developments, fact-checking, and more.
Sign up to receive daily balanced news roundups in your inbox.
---
Want to see more fact-checking about the conflict? Check out our special edition of Misinformation Watch: Israel-Gaza Conflict.
---
Blinken Announces Travel Ban on Israeli Settlers Involved in West Bank Attacks
December 5, 2023
Secretary of State Antony Blinken announced that the State Department will impose travel bans on Jewish settlers involved in recent attacks on Palestinians in the West Bank, according to the Associated Press (Lean Left bias).
Blinken stated, "Today, the State Department is implementing a new visa restriction policy targeting individuals believed to have been involved in undermining peace, security or stability in the West Bank, including through committing acts of violence or taking other actions that unduly restrict civilians' access to essential services and basic necessities." He added, "We have underscored to the Israeli government the need to do more to hold accountable extremist settlers who have committed violent attacks against Palestinians in the West Bank. As President Biden has repeatedly said, those attacks are unacceptable."
Last month, the AP reported that Israeli settlers' attacks on Palestinians in the West Bank have "surged at an unprecedented rate." 2023 was already the "deadliest year for Palestinians in the West Bank in over two decades" prior to the Oct. 7 Hamas attack, with 250 Palestinians killed by Israeli fire.
---
Next Phase Begins: Israel Pushes Into Southern Gaza, Gets Criticism From Turkey
December 4, 2023
Israel told Palestinians to evacuate the southern Gaza town of Khan Younis as it pursued Hamas by hitting the area with airstrikes on Monday.
Israeli Defense Minister Yoav Gallant said Hamas would face "the same and worse" in southern Gaza as it had in the north. Nearly a million Palestinians are sheltering in refugee camps in central and southern Gaza, many of which are located in Khan Younis, Al Jazeera (Lean Left bias) reported. Israel previously told roughly a million civilians in northern Gaza to flee south, but some Palestinians likely remained in northern Gaza over fears that they won't be able to return if they leave.
While Israel faced humanitarian concerns over its current operations, it also received criticism from nearby Turkey over its future plans. Turkish intelligence reportedly warned Israel of "serious consequences" should it carry out its plans to "hunt down" Hamas leaders in other countries, including Turkey. Turkish President Recep Tayyip Erdoğan said Israeli Prime Minister Benjamin Netanyahu was a "war criminal" who "will be tried as the butcher of Gaza," as reported by Reuters (Center bias).
Recent Headline Roundups:
---
Fighting Resumes in Gaza
December 1, 2023
The IDF intercepted rockets fired from Gaza Friday night, Haaretz (Lean Left bias) reported, as the end of a seven-day pause in fighting plunged the area back into war. Hamas reportedly failed to provide a list of hostages Israel demanded as a condition of extending the truce, although Israeli leaders had said they would eventually resume fighting either way.
Fighting also continued between Israel and Hezbollah, Al Jazeera (Lean Left bias) reported, leading to three deaths.
Meanwhile, The Wall Street Journal (Center bias) reported that Israel's spy agencies planned to hunt down Hamas' leadership in other countries even after the war in Gaza ended. Israel is also planning to establish a buffer zone in Gaza to protect itself in the future, Fox News (Right bias) noted, citing Reuters' (Center bias) reporting.
Recent Headline Roundups:
---
Hamas Claims Responsibility for Shooting at Jerusalem Bus Stop
November 30, 2023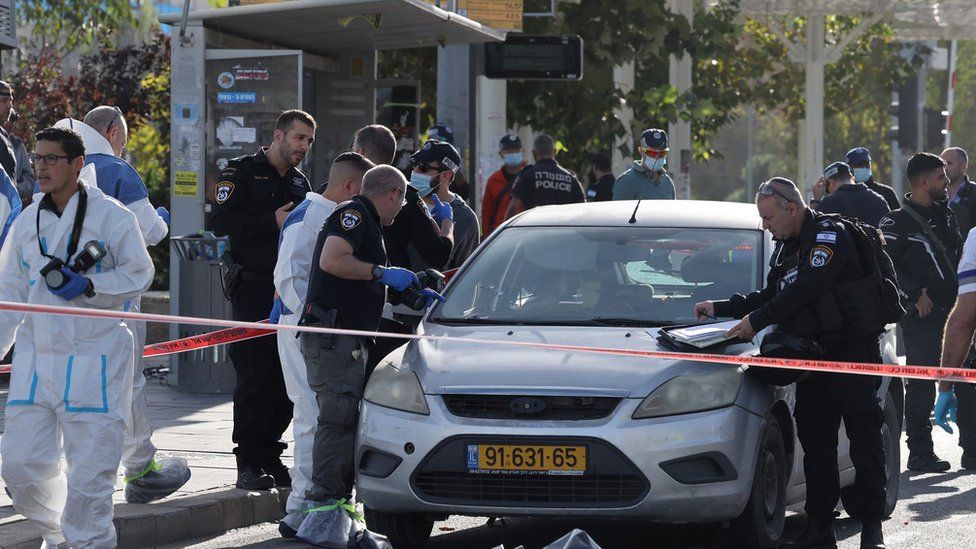 Hamas claimed responsibility for a shooting at a bus stop on the outskirts of Jerusalem that left at least three people dead.
The shooters were two Palestinian brothers who previously served prison sentences for terrorist activity, according to Israeli media. The brothers opened fire at a crowded bus stop. A 24-year-old woman was pronounced dead on the scene, and two other people were pronounced dead shortly after. Sixteen people were injured, with three in serious condition, according to BBC News (Center bias).
Hamas claimed responsibility for the attack, stating it was "a natural response to unprecedented crimes conducted by the occupation."
The attack comes amid a ceasefire between Israeli forces and Hamas fighting in Gaza. The ceasefire was extended through Thursday, but it is not yet known if the pause will continue past the end of today.
---
Hamas Works to Locate Its Hostages as Negotiators Seek Truce Extension
November 29, 2023
Hamas released 10 Israeli women and children and four Thai nationals on Wednesday, Israeli officials said, and Israel released 30 of its Palestinian prisoners.
However, as the extended pause in fighting approached its end, it was unclear whether the pause would be extended.
The Guardian (Lean Left bias) reported: "Egyptian media, quoting government sources, have reported that a preliminary understanding has been reached to extend the truce for two more days, under the same conditions that are currently being observed. Israel has said the truce could be extended further, provided Hamas continues to free at least 10 Israeli hostages a day."
However, The Jerusalem Post (Center bias) quoted Prime Minister Benjamin Netanyahu, who said, "There is no situation in which we do not go back to fighting until the end. This is my policy. The entire security cabinet is behind it. The entire government is behind it. The soldiers are behind it. The people are behind it – this is exactly what we will do."
Hamas needs to keep releasing hostages to extend the truce, but Hamas leadership doesn't know where they all are. With Gaza in chaos, Hamas dispersed throughout a network of tunnels, and other groups like Islamic Jihad holding some hostages, keeping track of hostages is no simple task.
---
Hostages Freed, Aid Delivered, and IDF Says Ceasefire was Violated
November 28, 2023
From Reuters (Center bias): "Hamas freed 12 more hostages and Israel released 30 Palestinian prisoners on Tuesday, the fifth day of an extended six-day truce between the militant Palestinian group and Israel in the Gaza war."
From Breitbart (Right bias): "The Pentagon on Tuesday announced that the United States military delivered more than 54,000 pounds of United Nations aid to Egypt for delivery to Gaza."
From Vox (Left bias): "At this pace of exchange, the ceasefire could continue for days, given the number of hostages still in Gaza. But there is no agreed-upon framework for a long-term deal, and Israeli Prime Minister Benjamin Netanyahu has insisted that the war will go on after the current ceasefire concludes. While the prisoner exchange could strengthen Hamas's political position, further complicating Israel's goal to eradicate the group, Israel appears undeterred."
From The Daily Wire (Right bias): "The Israel Defense Forces (IDF) said on Tuesday that terrorists have violated the temporary ceasefire in Gaza after its forces came under attack in multiple locations."
---
Deal Reached to Extend Pause in Fighting for Two More Days, Qatar Says
November 27, 2022
Qatar, which has served as a mediator in the conflict, announced an agreement to extend the pause in fighting in Gaza, Reuters (Center bias) reported Monday. Hamas said it had reached an agreement with Qatar and Egypt, not mentioning Israel.
The news came after U.S. President Joe Biden publicly supported extending the pause, saying Friday, "My expectation and hope is that as we move forward, the rest of the Arab world and the region is also putting pressure on all sides to slow this down, to bring this to an end as quickly as we can." Like other allies of Israel, however, Biden did not call for a formal "ceasefire" and maintained that "eliminating" Hamas was a legitimate goal.
The pause has allowed humanitarian aid to arrive for Palestinians suffering in the warzone, as hostages taken by Hamas continued to be released in exchange for Palestinian prisoners held by Israel. According to The Jerusalem Post (Center bias), "Israel has agreed to release three jailed Palestinian women or minors for every Israeli hostage that has been freed."
While U.S. media often covered the return of hostages taken by Hamas, Qatari outlet Al Jazeera (Lean Left bias) continued its pro-Palestinian coverage with multiple articles focusing on the "tears of joy" as Palestinian prisoners held by Israel were reunited with their "loved ones."
---
Israeli-Owned Cargo Ship Attacked by Iranian Drone, Pentagon Official Says
November 26, 2022
Per Associated Press (Lean Left bias), an unnamed Pentagon official said a ship owned by an Israeli billionaire was attacked by an Iranian drone in the Indian Ocean.
The Malta-flagged, CMA CGM Symi (aka the Mayet) cargo ship was reportedly hit by a Shahed-136 kamikaze drone overnight Friday, hours before the Israel-Hamas ceasefire began, but no crew were injured. The ship's Automatic Identification System (AIS) had been turned off since it left Dubai Tuesday, signaling heightened security concerns from its crew. The Symi had previously turned off its AIS when traveling through the Red Sea. The Shahed-136 is an Iranian-made drone that Russia has also been using in Ukraine. Neither Israel nor Iran has commented on the incident.
---
Here's What the Israel-Hamas Cease-fire Includes
November 24, 2023
50 women and children released by Hamas, including three Americans

200 trucks carrying aid allowed into Gaza per day

150 Palestinian women and children released from Israeli jails
---
Israel and Hamas Reach Deal to Free 50 Hostages, Pause Fighting for Four Days
November 22, 2023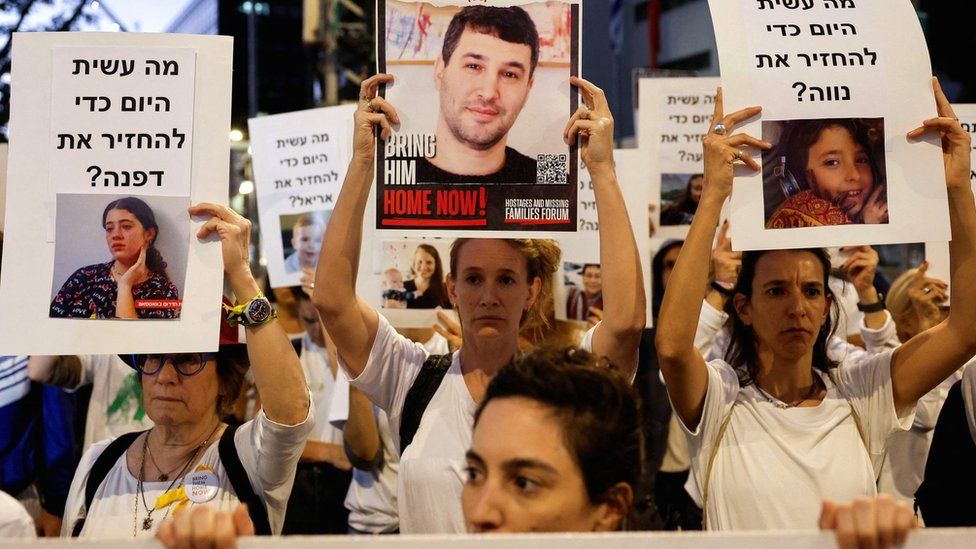 The Israeli government and Hamas reached a deal in which Hamas will release 50 hostages during a four-day pause in the fighting.
According to BBC News (Center bias), the pause will begin at 10:00 GMT on Thursday.
Of the 50 released hostages, most are expected to be women and children. Three U.S. citizens will reportedly be among those freed.
The Israeli government offered to add another day to the pause in fighting for every 10 additional hostages released by Hamas.
On the Israeli side, roughly 150 Palestinian women and children held in Israeli jails are also expected to be released.
Additionally, at least 200 aid trucks are expected to enter Gaza per day during the ceasefire.
---
Israeli Government Considers Hamas Hostage Deal
November 21, 2023
Reports said Tuesday morning that Israel and Hamas were close to a hostage deal that would include a multi-day pause in the fighting and reportedly free 50 Israeli hostages and 150-300 Palestinian prisoners.
Israeli Prime Minister Benjamin Netanyahu reportedly urged Israeli lawmakers to support the deal, according to The New York Times (Lean Left bias), adding, "The war has its stages, and the release of the hostages has its stages as well. But we won't rest until we achieve total victory, and until we bring everyone back."
Some opposed the deal, including National Security Minister Itamar Ben Gvir, The Times of Israel (Not Rated) reported.
---
Yeman-Based Houthis Hijack Israeli-Linked Ship, Take Hostages
November 20, 2023
The Yemen-based, Iran-backed Houthis, who declared war on Israel last month, hijacked an Israeli-linked civilian ship in the Red Sea over the weekend. The ship's operator, registration, captain, and crew were not Israeli, but the company that owns it has an Israeli partner. The instance sparked media dialogue across the spectrum on what their involvement could mean for the world at large.
An analysis from Al Jazeera (Lean Left bias) said the only power that could reasonably prevent "Israeli-linked" ships from being hijacked is the U.S. The piece said targeting the Houthis directly could risk major escalation, but the U.S. could instead quietly nudge Iran to reign them in.
An opinion for Jerusalem Post (Center bias) said "the world should let Tehran know that it is not fooled" by its denial of involvement. The writer also said the U.S. should designate the Houthis as a terrorist organization, something done by former President Donald Trump during his final days in office, and quickly undone when President Biden assumed office.
An analysis from The New York Sun (Right bias) said the Houthis could spark an "all-out" regional war. The article noted that since October 7, in Iraq and Syria, Islamic Revolutionary Guard Corps-linked groups have attacked Americans over 64 times, three of which have drawn American retaliation. The analysis noted a recent Washington Post (Lean Left bias) report that said the Biden administration is struggling to deter attacks from Iran-backed groups and also noted that Saudi Arabia would side with the U.S. and Israel in the event of further escalation.
---
Israel Allows Gaza Fuel Shipments After Starvation Warnings as Fighting and Protests Continue
November 17, 2023
As fighting in Gaza continued, Israel agreed to allow limited fuel shipments into Gaza after aid groups warned of impending starvation. Protests sympethetic to the Palestinians continued to attract media attention and drive controversy in the U.S.
From AP (Lean Left bias): "Israel announced Friday that it will allow for the first time 'very minimal' daily shipments of fuel into Gaza for use by the U.N. and communications system. Aid agencies say the lack of fuel has forced them to call off deliveries of basic necessities in the Gaza Strip. They warned of possible widespread starvation in the besieged enclave because of the lack of fuel, and said most people in Gaza were without adequate food and clean water."
From Haaretz (Center bias): "More than 20 Jewish and Israeli students have resigned from the Harvard Graduate Student Union, citing its refusal to acknowledge, 'let along condemn,' the massacre of Israeli civilians by Hamas on October 7, despite their ongoing pleas."
From Fox News (Right bias): "There remain up to 238 Hamas hostages in Gaza, and 10 of them are believed to be Americans. The Hamas-run Gaza health ministry claims more than 11,200 Gazans have been killed in the fighting, though they do not distinguish between Palestinian civilians and Hamas terrorists."
---
Seeking Hamas, Israeli Forces Raid Gaza's Al Shifa Hospital
November 15, 2023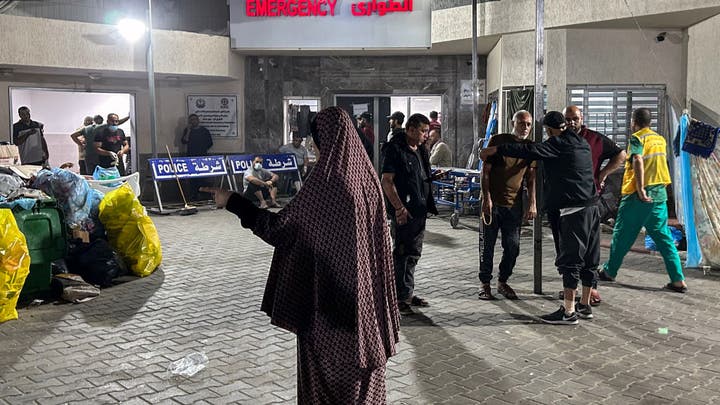 Israeli troops entered Gaza's Al Shifa hospital on Wednesday, searching for evidence that Hamas used the hospital as a base of operations.
White House officials and Israeli intelligence suggest that Hamas used the hospital to hold hostages and act as a military base. Hamas denies the claims, and some hospital workers said there were no Hamas fighters at the hospital.
The raid came amid days of fighting in and around Gaza's hospitals, which Israel says are used by Hamas to conceal their activities. However, hospitals have also served as shelters for tens of thousands during Israel's attacks, putting civilians in the crossfire. As reported by Al Jazeera (Lean Left bias), Al-Shifa hospital Director Mohammad Abu Salmiya told AFP news (Not Rated) that 179 bodies had been buried in a mass grave in the hospital courtyard. Shortages of food and power had also threatened civilians; an IDF statement reported by Fox News (Right bias) said Israeli forces had brought "incubators, baby food and medical supplies" for civilians at the hospital.
---
Tens of Thousands of Pro-Israel Demonstrators Gather in DC
November 14, 2023
Tens of thousands of people converged on the National Mall in Washington, D.C., on Tuesday in support of Israel amid the ongoing conflict with Hamas.
Reuters (Center bias) quoted one attendee, Marco Abbou, a New Jersey resident born in Israel, stating, "We are here to show the world that we won't be exterminated again."
The demonstration comes amid reports of division within the federal government over the Biden Administration's handling of the crisis. The Biden Administration has voiced support for Israel while pushing for humanitarian efforts and "pauses" in the fighting in Gaza. Hundreds of federal employees signed an internal memo criticizing Biden for his response and urging him to demand a complete ceasefire in the region. Last week, Biden said there was "no possibility" of a ceasefire at the present moment.
Earlier this month, pro-Palestinian demonstrators converged on Washington, D.C., to protest against Israel's handling of the crisis, underscoring American divisions on the international conflict.
Recent Headline Roundups
---
Internal State Department Memo Accuses Biden Admin. of 'Misinformation' on Israel-Hamas War
November 13, 2023
An internal dissent memo, submitted November 3 and signed by 100 members of the State Department and USAID, accused President Joe Biden of "spreading misinformation" in his October 10 speech and said Israel was committing "war crimes" in Gaza. Axios (Lean Left bias) broke the story on Monday.
According to Axios, the memo criticized "our unwavering military assistance" to Israel "without clear or actionable redlines." While noting the "atrocities" commited by Hamas, the memo also said the White House "displayed a clear disregard for the lives of Palestinians, a documented unwillingness to de-escalate, and, even prior to October 7, a reckless lack of strategic foresight."
A report by Fox News (Right bias) highlighted Axios' comparison of some of the memo's points to language used by "progressive activists."
Recent Headline Roundups
---
Northern Gaza Hospitals Become Focal Point as Israeli Ground Operations Intensify
November 10, 2023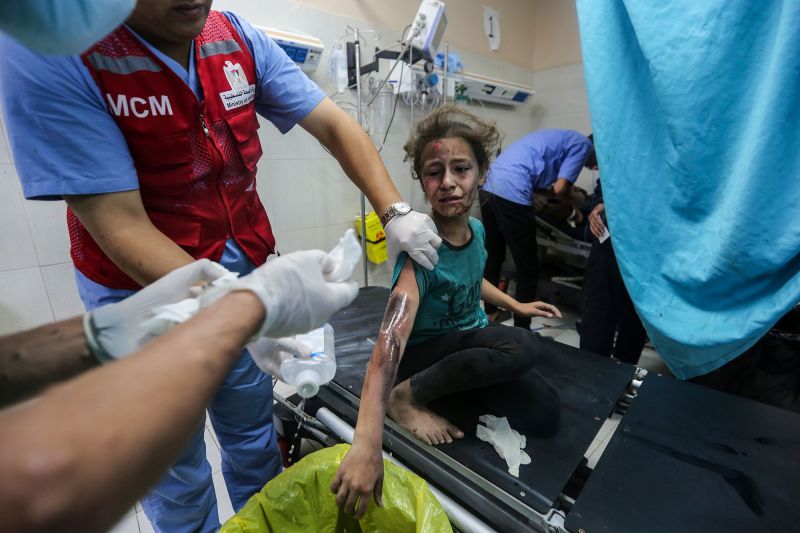 On Friday, the head of the Al Nasr hospital and Al Rantisi Pediatric hospital in northern Gaza told CNN (Lean Left bias) they were surrounded by Israeli forces, who intensified their operations around Gaza City, saying, "We are completely surrounded, there are tanks outside the hospital, and we cannot leave."
The same day, a strike — so far not attributed to either side — hit the Al Shifa hospital north of Gaza City, described by The New York Times (Lean Left bias) as "the largest and most advanced medical complex in the Gaza Strip."
Israeli officials maintain that they must target such apparently vulnerable locations because Hamas intentionally hides there. An IDF spokesman told Fox News (Right bias) that an entrance to a Hamas tunnel had even been found inside a child's bedroom "in more than once instance."
"We're aware of the sensitivity of the hospitals. That's why we're slowly closing in on them," an Israeli military spokesman said Friday. That sensitivity has been increasingly emphasized by Israel's allies. On Friday, U.S. Secretary of State Antony Blinken said, "far too many Palestinians have been killed," stressing that "there is more that can and should be done to minimize harm to Palestinian civilians."
Recent Headline Roundups
---
Israel Agrees to Daily Four-Hour Humanitarian Pauses in Northern Gaza
November 9, 2023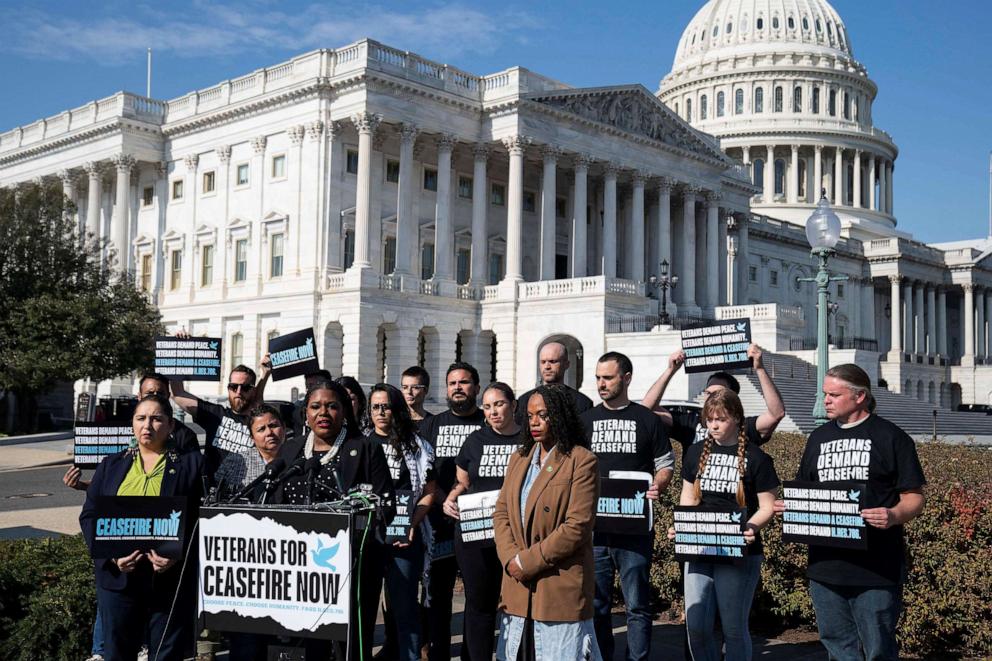 The White House stated Thursday that Israel will begin placing four-hour daily humanitarian pauses on fighting in northern Gaza.
President Biden reportedly pushed for a multi-day pause but added that there is "no possibility" for a formal ceasefire at the present moment.
Some progressive lawmakers pushed back on the four-hour pauses, demanding a permanent end to hostilities.
ABC News (Lean Left bias) quoted Rep. Cori Bush (D-MO) stating, "Four hours? We don't want four hours. We don't want 16 hours. We don't want 22. We want a cease-fire now."
White House officials hope the daily pauses will aid in the release and transfer of hostages currently held by Hamas.
The Associated Press (Lean Left bias) quoted National Security Council spokesman John Kirby as saying that pauses could help "getting all 239 hostages back with their families to include the less than 10 Americans that we know are being held. So if we can get all the hostages out, that's a nice finite goal."
---
Israel Targets Hamas' Vast Tunnel Network as Fighting Continues in Gaza City
November 8, 2023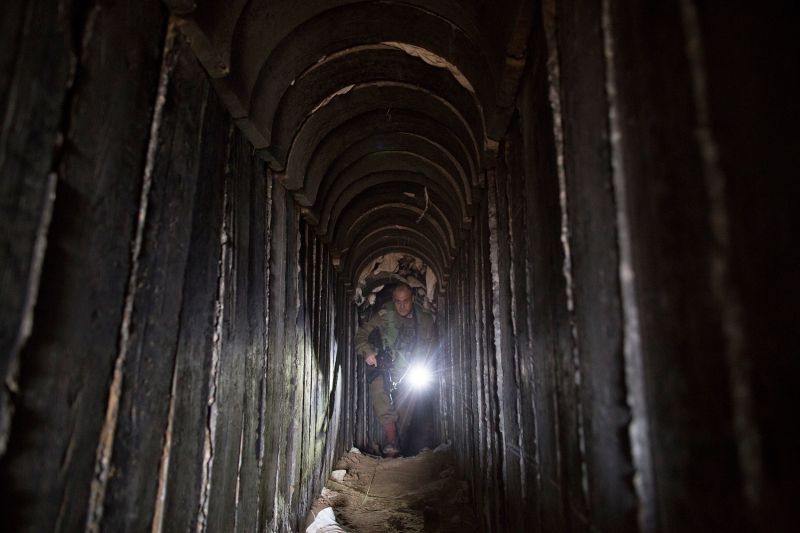 On Wednesday, Israeli forces said they had destroyed 130 Hamas tunnels as fighting continued deep within Gaza City.
The tunnel network beneath Gaza — nicknamed the "Gaza metro" by the IDF, as reported by CNN (Lean Left bias) — was used for years to smuggle commercial goods, arms, and people from Egypt during the Israeli military occupation. Hamas rapidly expanded the tunnel network after it took control of Gaza in 2007; in 2021, it claimed to have built over 300 miles of tunnels.
Meanwhile, countries around the world appear to be souring on Israel's assault. Canadian PM Justin Trudeau called for a humanitarian pause to allow for the release of hostages, and Belgium's leaders called on the European Union to sanction Israel over its Gaza bombings, which have now reportedly killed many thousands more than Hamas did on October 7. The Wall Street Journal (Center bias) reported that the conflict allowed Russia and China, "two repressive autocracies," to "position themselves as champions of humanitarian values and peace."
The Biden administration has also supported a humanitarian pause, but Secretary of State Antony Blinken pushed back on the idea of a unilateral ceasefire. Quoted by The Jerusalem Post (Center bias), Blinken said, "Those calling for an immediate ceasefire have an obligation to explain how to address the unacceptable result it would likely bring about," citing Hamas' pledge to repeat its October 7 attacks.
---
Israeli Forces 'Tightening the Noose' on Gaza City as Netanyahu Indicates Indefinite Presence in Gaza
November 7, 2023
Israeli forces are operating within Gaza City, according to Reuters (Center bias), as they continue their ground campaign into the Gaza Strip with the aim of wiping out the Hamas presence in the region.
Israeli Defence Minister Yoav Gallant said Israeli forces are "tightening the noose" on the city and "have one target - Hamas terrorists in Gaza, their infrastructure, their commanders, bunkers, communications rooms."
This comes as Israeli Prime Minister Benjamin Netanyahu stated that Israel would have an "overall security responsibility" for Gaza "for an indefinite period," adding, ""When we don't have that security responsibility, what we have is the eruption of Hamas terror on a scale that we couldn't imagine."
President Joe Biden has warned that an Israeli occupation of Gaza would be a "big mistake."
---
Pro-Palestine Protesters March on Washington D.C., Expressing Anger at Biden
November 5, 2023
Tens of thousands of Pro-Palestine protesters marched on Washington, D.C. on Saturday, November 4, to express their discontent with President Joe Biden over his support of Israel.
Protesters descended upon the White House gates, where they accused Biden of supporting genocide. According to the New York Post (Lean Right bias) one protester was arrested for destruction of property around 5:30 PM, and the protests ended "abruptly" and peacefully around 8 PM. Unofficial reports suggest over 100,000 people took part in the protest. Protests also took place in London and New York on Saturday.
Rapper Macklemore, who attended the D.C. rally, said from a stage in Freedom Plaza, "We've been told to just be complicit to protect our careers, to protect our interests — and I'm not going to do it anymore. I know enough that this is a genocide." A New York Post reporter said, "It was remarkable that it ended peacefully. (With) many families in the fired-up crowd, it could have been bad." David Horowitz, a Jewish-American activist, said, "We should be calling for a ceasefire, and instead they're talking about a 'pause', which isn't really a stoppage of anything."
Media across the spectrum highlighted protesters' disdain for Biden and a number of protesters who said they would not vote for Biden in 2024. The New York Post reported that some protesters chanted "Allahu Akbar," and defaced White House gates.
---
Israel Claims Responsibility of Deadly Strike on Ambulance in Gaza
November 4, 2023
Israel claimed responsibility for a Friday, November 3 strike on an ambulance in Gaza City that injured 60 and killed 15.
Palestinian authorities said the vehicle was part of a convoy carrying wounded from al-Shifa hospital in Gaza's North to the Rafah border crossing, which has been used to to evacuate people to Egypt. Israel's military said the ambulance was "being used by a Hamas terrorist cell," and that Hamas operatives were killed in the strike. Israel said it will share further information, but has already shared more details with intelligence agencies it works with.
A video of the aftermath has circulated widely on Twitter. The Times of Israel reported Friday that a senior Biden administration official said Hamas tried to sneak its fighters out of Gaza in ambulances and Egypt rejected the ambulances at the border. Israel has previously been accused of attacking a hospital in Gaza that killed hundreds, although blame still remains disputed.
The story was very widely covered by sources from the left and Center. As of the afternoon of November 4, AllSides could not find significant coverage from the right. Newsmax (Lean Right bias) published an article based on The Times of Israel's reporting, and included context that Hamas has smuggled weapons and fighters in ambulances as far back as 2002. Newsmax included a sentence at the end of its coverage about Israel's claim of responsibility for the attack.
---
Hezbollah Leader Praises Hamas in First Statement Since Attacks
November 3, 2023
Hezbollah leader Hasan Nasrallah spoke publicly on Friday, November 3, for the first time since the Hamas attack last month. Nasrallah called the Hamas attack "a heroic, brave act." He said Hezbollah fighters have engaged with Israeli Defense Forces, with 57 Hezbollah fighters having been killed already in the fighting. "Some claim Hezbollah is about to join the fray. I tell you: We have been engaged in this battle since Oct. 8. Some would like Hezbollah to engage in an all-out war, but I can tell you: What is happening now along the Israeli-Lebanese border is significant, and it is not the end." He added, "What we have done since Oct. 8 is unprecedented in terms of our fighting strategy." Late last month, Israeli Prime Minister Benjamin Netanyahu warned Hezbollah would be making the "mistake of its life" if it entered the conflict.
Nasrallah's comments were covered across the spectrum, but most prominently and frequently in right-rated outlets.
---
Gaza Split in Two: Refugees Flee South as Israeli Forces Encircle Gaza City
November 2, 2023
President Joe Biden voiced support for a humanitarian "pause" in Gaza following a campaign speech on Wednesday, as foreign and Palestinian refugees continued to flee at Gaza's southern border and Israeli forces encircled Gaza City, the enclave's largest city, in the north.
From AllSides: Read our latest Headline Roundup on Biden's remarks and reactions to it.
From The Guardian (Lean Left bias): "Antony Blinken will spend the day on Friday in Israel, his fourth visit since 7 October... Blinken will also head to Jordan before heading to Asia next week."
From The Wall Street Journal (Center bias): "President Biden said 74 Americans and family members had made it out of Gaza, and called for a humanitarian pause in the war. U.S. officials are speaking with their counterparts in Arab states about plans for governing Gaza after the war, according to people familiar with the early-stage conversations."
From Washington Examiner (Lean Right bias): "The House passed its multibillion-dollar Israel aid package on Thursday, advancing the legislation that President Joe Biden has already threatened to veto and Senate Majority Leader Chuck Schumer (D-NY) has said will be dead on arrival in the Senate."
Read the IDF's press briefing on the encirclement of Gaza City here.
---
AllSides Red Blue Translator™ Entries on Israel, Terrorism, and More
November 1, 2023
The Israel-Hamas conflict is dividing Americans and media voices across the spectrum. When biased outlets cover contentious issues, words and phrases can hold different meanings depending on the bias of the writer/outlet.
The AllSides Red Blue Translator™ exists to help break down these divided meanings.
The RBT contains numerous entries pertaining to the Israel-Hamas conflict, including entries on Zionism, terrorism, Israel, and the American-Israeli relationship. The entires give context to the words/phrases and explain how they are interpreted differently by individuals with opposing political biases.
Recent Headline Roundups:
---
Israel Kills Senior Hamas Commander, Dozens of Others in Airstrike on Densely-Populated Refugee Camp
October 31, 2023
On Tuesday, the IDF said an Israeli airstrike killed Ibrahim Biari, a senior Hamas commender who "oversaw all military operations in the northern Gaza Strip since the IDF entered," as well as a "large number of terrorists" in northern Gaza's densely-populated Jabalia refugee camp. The IDF said Hamas was operating in "underground infrastructure" beneath the area. Hamas-controlled local officials said the airstrike "targeted a residential neighbourhood," and the director of a local hospital told CNN (Lean Left bias) the injured and dead measured in the "hundreds."
The airstrike struck at the heart of the debate around Israel's military operations in Gaza: even if Hamas intentionally hides behind civilians, how many civilian lives is one Hamas target worth?
The incident also provided an opportunity for divided coverage in U.S. media. Fox News (Right bias) highlighted the IDF's narrative, taking Israeli officials at their word and appearing to omit reports of civilian casualites. On the other hand, coverage in CNN described Jabalia as "Gaza's largest refugee camp" and discussed reports of casualties before discussing the IDF's statement.
Apparently seeking to avoid the controversy surrounding some coverage of the Al-Ahli Arab Hospital bombing, The Wall Street Journal (Center bias) initially only attributed the casualties to "explosions" and "blasts" before updating its headline when Israel took responsibility.
Recent Headline Roundups
---
Pro-Palestine Mob Storms Russian Airport Looking for Jewish Travelers
October 30, 2023
A mob stormed Makhachkala International Airport in the predominantly muslim Russian Republic of Dagestan on Sunday, looking for passengers from a Tel Aviv flight.
Rioters, who could be heard yelling "Allahu Akbar," seized control of the airport and its tarmac, waving Palestinian flags and checking travelers' passports. The targeted flight did not include any Jews, according to Israel's Foreign Ministry, but airport authorities gathered other Jewish travelers for immediate evacuation to Moscow. The flight eventually landed at a separate airport, which rioters also stormed. Russia's Ministry of Foreign Affairs said 60 rioters have been arrested.
Kremlin Press Secretary Dmitry Peskov said the riot is the result of "external interference," and that President Vladimir Putin will meet top advisers Monday to discuss "the West's attempts to use the events in the Middle East to split Russian society."
Al Jazeera (Lean Left bias) did not include photos of the events and called them a "protest." Associated Press' (Lean Left bias) headline initially described the situation as a "protest" before changing its wording to "antisemitic riot." Conversely, center- and right-rated outlets tended to describe "rioters" and "mobs."
---
Israeli Forces Strike 150 Targets, Remain in Gaza After Friday Night Incursion
October 28, 2023
Israeli forces remained in Gaza Saturday after a night of fighting that signals the beginning of a wider incursion and escalation of its conflict with Hamas.
Israeli troops, armor, and artillery entered Gaza from the north on Friday, and were supported by airstrikes and bombardment from the sea. Israeli jets struck 150 underground targets across northern Gaza, killing several Hamas operatives, reportedly including Asem Abu Rakaba who helped plan the October 7 attacks on Israel. The operation comes less than 48 hours after Israel announced that on Friday night it would expand ground operations in Gaza.
The bombardment knocked out most of the enclave's communications infrastructures, making communicating with the outside world very difficult for those in Gaza.
Hamas called Israel's operation a "failure" that caused them to suffer heavy losses, while an Israeli spokesperson said Israel suffered no casualties on Friday.
---
Israel to 'Expand' Ground Operations Friday Night
October 27, 2023
Israeli ground forces are "expanding their operations" into Gaza, where an internet blackout has cut off communications with the outside world.
Israel Defense Forces Rear Adm. Daniel Hagari told reporters, "The IDF is operating in all dimensions to accomplish the goals of the war." Observers have noted that a ground incursion into Gaza would be particularly difficult; a former Israeli general said, "It will be slow, very hard, and will require a great deal of preparation if we want to minimize our own casualties."
A broad ground invasion of Gaza has been expected for weeks, but Israel delayed out of concern for Hamas' hostages and at the request of the Biden administration, which sought to prepare defenses in the region. National Security Council spokesman John Kirby told reporters that the U.S. was having "active conversations" with Israel about a "localized, temporary pause" to allow the release of hostages.
While some sources said Israel would launch its expected ground invasion Friday night, others said Israel was just expanding its ground operations ahead of an invasion, building on two nights of raids. Some left-rated sources appeared more sympathetic to the Palestinians; HuffPost (Left bias) featured the story with the homepage headline "GAZA ON THE BRINK."
---
Israeli Defense Forces Conduct Raid in Northern Gaza 'In Preparation for the Next Stages of War'
October 26, 2023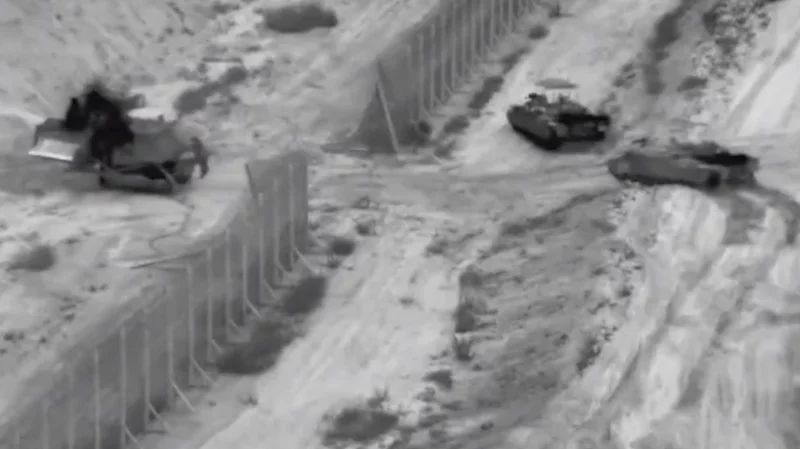 Outlets across the spectrum are reporting that Israeli forces carried out a ground raid into the northern section of the Gaza Strip on Thursday. The Israeli Defense Forces said the raid was conducted "in preparation for the next stages of war."
NPR (Lean Left bias) quoted the IDF as saying the raid "eliminated terrorists and destroyed terrorist infrastructure" and involved "a number of tanks and troops."
Al Jazeera (Lean Left bias) reported that "Israel has already made several limited advances into the Gaza Strip over the past two and a half weeks, but this was the biggest incursion of the current war."
---
Turkey's Erdoğan Says 'Hamas Is Not a Terrorist Organization,' Condemns Israeli Airstrikes as Netanyahu Delays Ground Invasion
October 25, 2023
Turkish President Recep Tayyip Erdoğan condemned Israel's ongoing airstrikes in Gaza as "inhumane" on Wednesday and canceled a planned trip to Israel. Erdoğan also said, "Hamas is not a terrorist organization, it is a group of mujahideen defending their lands."
The remarks came as countries and non-state actors in the Middle East calibrated their reactions to the war. The Biden administration, reportedly fearing a wider regional conflict, urged Israeli Prime Minister Benjamin Netanyahu to delay an expected ground invasion of Gaza so U.S. forces could install defense systems to protect American troops, who have already been targeted by militias elsewhere in the region.
Geographically positioned between Europe and the Middle East, NATO member Turkey holds a unique geopolitical position relative to the conflict. While Erdoğan initially reached out to support Israel following Hamas' October 7 attack, many in Turkey are sympathetic to the Palestinians. Thus, according to an analysis from the Council on Foreign Relations (Left bias), the start of the Israeli aerial offensive in Gaza "almost immediately" made Erdoğan switch his position.
---
UN Secretary-General: Hamas Attacks 'Did Not Happen in a Vacuum'
October 24, 2023
United Nations Secretary-General Antonio Guterres condemned Hamas' attack on Israel while also calling for a ceasefire in Gaza on Tuesday.
Guterres stated that the Hamas attacks "did not happen in a vacuum," stating that the Palestinian people "have been subjected to 56 years of suffocating occupation. They have seen their land steadily devoured by settlements and plagued by violence; their economy stifled; their people displaced and their homes demolished. Their hopes for a political solution to their plight have been vanishing." Guterres added that the Hamas attacks "cannot justify the collective punishment of the Palestinian people."
Guterres' statements drew condemnation from the Israeli U.N. ambassador, who soon after called on Guterres to resign.
Read more from our Headline Roundup.
---
Limited Aid Enters Gaza as Israel Continues Airstrikes
October 23, 2023
The Hamas-controlled Palestinian Health Ministry said over 430 people were killed overnight as Israel continued its airstrikes in Gaza. News coverage appeared to place greater emphasis on the fact that the reports of deaths in Gaza came from Palestinian authorities; mainstream news outlets were criticized for some coverage of the Al-Ahli Arab Hospital bombing, attributed to Israeli airstrikes by Palestinian authorities who were later contradicted by Israel and the U.S.
The strikes were reportedly paired with limited ground skirmishes between Israeli forces and Hamas as both sides prepared for a broader potential Israeli ground invasion.
From Fox News (Right bias): "Israel remains poised for a ground invasion of Gaza, but the order has yet to come down. Iran and its terrorist proxy in Lebanon, Hezbollah, have threatened to join the conflict."
From Reuters (Center bias): "The Palestinian militant group Hamas said its fighters had hit back by engaging an armoured Israeli force in southern Gaza on Sunday, and launched two attack drones at military posts on Monday which Israel said were thwarted."
From CNN (Lean Left bias): "The Palestinian enclave is more than 7,200 truckloads short of the aid usually imported since October 7, according to CNN. The territory normally receives 455 aid trucks per day, the United Nations said. Therefore, 7,280 trucks should have arrived between October 7 and October 22."
Recent Headline Roundups
---
Biden Asks for Major Aid Package for Ukraine and Israel in Oval Office Speech
October 20, 2023
In a prime-time address to the nation, delivered from the Oval Office, President Joe Biden argued that the conflicts in Ukraine and Israel were "vital for America's national security" despite seeming "far away."
"We're facing an inflection point in history. One of those moments where the decisions we make today are going to determine the future for decades to come," Biden said.
Connecting Ukraine and Israel, Biden said, "Hamas and Putin represent different threats, but they share this in common. They both want to completely annihilate a neighboring democracy — completely annihilate it."
Calling the U.S. "the essential nation," Biden addressed polarization at home: "I know we have our divisions at home. We have to get past them. We can't let petty, partisan, angry politics get in the way of our responsibilities as a great nation. We cannot and will not let terrorists like Hamas and tyrants like Putin win. I refuse to let that happen."
Read a transcript of the speech here.
Recent Headline Roundups
---
Biden Warns Israel: Don't be 'Consumed' by Rage
October 18, 2023
President Joe Biden is currently in Israel, meeting with Israeli officials as they prepare for an assault into Gaza in response to the Hamas attacks. Speaking in Tel Aviv, Biden sympathized with the "shock, pain, rage" felt by Israelis, comparing the Hamas attacks to the 9/11 attacks, but offered a warning to Israelis to learn from the mistakes made by the United States in the aftermath of the Al-Qaeda attacks.
"Since this terrorist attack took place, we've seen it described as Israel's 9/11," Biden stated, according to The Hill (Center bias). "But for a nation the size of Israel, it was like 15 9/11s. The scale may be different, but I'm sure those horrors have tapped into some kind of primal feeling in Israel just like it did in the United States. Shock, pain, rage. An all-consuming rage." Biden went on to say, "You can't look at what has happened here … and not scream out for justice. Justice must be done. But I caution this: While you feel that rage, don't be consumed by it. After 9/11 we were enraged in the United States. While we sought justice and got justice, we also made mistakes."
Recent Headline Roundups
---
Who Blew Up the Gaza City Hospital?
October 17, 2023
Over 500 people are believed to have been killed by an explosion at a hospital in Gaza City, and Israeli and Palestinian officials are blaming each other for the blast.
President Joe Biden said in a meeting with Israeli Prime Minister Benjamin Netanyahu that the blast appeared to have been caused "by the other team, not you."
Some right-rated sources accused mainstream media of blaming Israel for the explosion without evidence.
Read more from our Headline Roundup.
---
U.S. Freezing Funds to Iran in Wake of Hamas Attack
October 12, 2023
In September, the Biden Administration struck a deal with Iran in which Iran would release five detained Americans in exchange for the release of $6 billion in frozen Iranian assets.
The deal was panned as a "ransom" by some right-rated voices.
Now, with Iran widely speculated to be playing a role in Hamas' attacks on Israel, Biden faces calls from Republicans and Democrats alike to renege on the deal.
According to the Washington Post (Lean Left bias), Biden is listening to these voices and will freeze the funds.
Deputy Treasury Secretary Wally Adeyemo reportedly told Democratic lawmakers that the money "isn't going anywhere anytime soon."
---
Israel to Form Emergency Unity Government
October 11, 2023
Partisan leaders in Israel, including Prime Minister Benjamin Netanyahu, formed an emergency unity government on Wednesday. Former Defense Minister Benny Gantz met with Netanyahu Wednesday morning, and lawyers from the Likud and National Unity parties stayed behind to iron out the details.
From The Jerusalem Post (Center bias): "Gantz will join a war cabinet with Netanyahu and Defense Minister Yoav Gallant, and Eisenkot and Strategic Affairs Minister Ron Dermer will be observers. A spot will be kept open for opposition leader Yair Lapid should he join the emergency government."
From Semafor (Lean Left bias): "The government will not pass any legislation that is not connected to the war in Gaza as long as it continues."
From Fox News (Right bias): "A unity government is needed for Israeli PM Benjamin Netanyahu to have a broad consensus within his government to execute decisions. Opposition Leader Yair Lapid has refused to join the government if far-right Religious Zionism and Otzma Yehudit parties remain in it, but a position has been left open for him, the Times of Israel reports."
---
Shani Louk's Mother Claims Daughter is Alive
October 10, 2023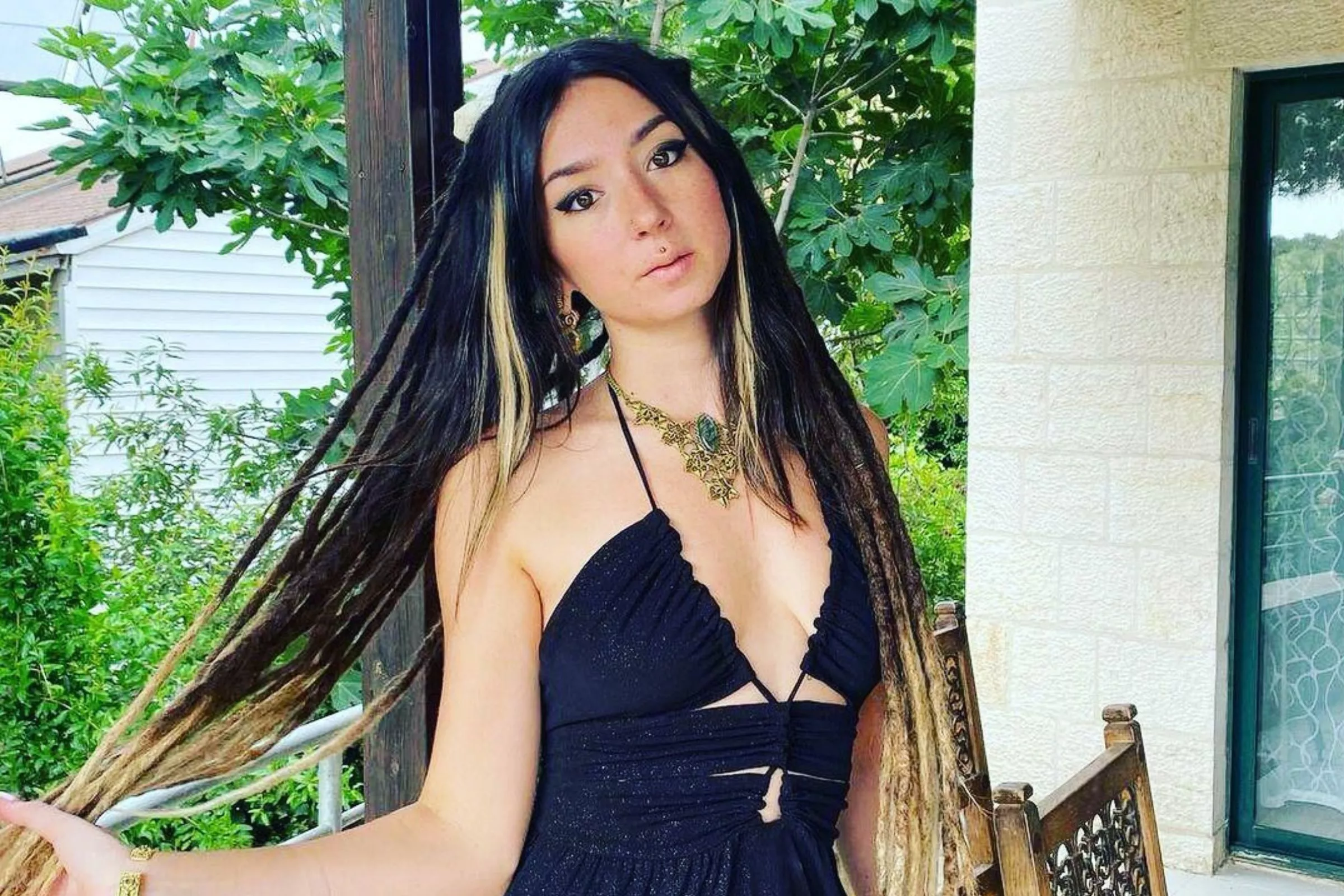 A video circulated widely this week of an Israeli-German woman—later identified as Shani Louk, age 22— unconscious in a pickup truck following a Hamas attack on a music festival.
When Louk was identified, some outlets reported that she had been murdered by Hamas.
Now, Louk's mother is claiming that her daughter is alive and is currently in a Gaza hospital with serious head injuries. Louk's mother is calling on the German government to intervene.
Numerous outlets across the spectrum are reporting this new development in the story.
---
Previous Coverage from AllSides
10/10: How History Influenced the Current Israel-Hamas Conflict
10/10: Biden Condemns Hamas Attacks, Reaffirms Support for Israel
10/10: Did Iran Aid the Hamas Attacks?
10/9: How to Avoid Manipulation When Reading Coverage of Hamas Attacks on Israel
10/8: How Hamas' Surprise Attack on Israel Affects American and Israeli Politics
10/7: Hamas Launches Large Attack on Israel, Netanyahu Declares Country 'At War'
---