In Tbilisi, the capital of the country Georgia, citizens recently found themselves in a battle with their own government for what they believe is their Western future.
Georgia – a country not often covered in American media – is strikingly similar to one that now is. While battle rages in Ukraine, the also former Soviet Republic was in a similar situation as recently as 2008. With aspirations to join NATO, Georgia found itself fighting against two Russian-backed breakaway republics within its own internationally-recognized borders — Abkhazia and South Ossetia. In less than 2 weeks, Georgia had been pushed out of the regions for good, which now maintain autonomy and close ties with the Russian Federation.
Georgia, which first showed a serious desire to join NATO in 2003, remains on the outside looking in. And these territorial disputes, Russia claimed, are why Georgia has been unable to gain access.
It's not difficult to notice a pattern between NATO's eastward expansion and Russia's resistance. Ukraine, Moldova, Serbia, and Georgia are all in territorial dispute with breakaway republics. In Ukraine, Moldova, and Georgia, most of the West takes the side of the "central" government, while in Serbia, it is Russia that does so.
In essence, as the post-Soviet order still settles, the United States and its Western accomplices continue to play tug-of-war with Russia over several Eastern European countries.

Protests Break Out in Tbilisi
That's why a few weeks ago in Tbilisi, where you're hard-pressed to find a Georgian flag that doesn't fly optimistically beside an EU one, protests erupted in the streets when a member of parliament introduced a bill that would require all individuals, media outlets, and NGOs who receive more than 20% of their funding from abroad to register as foreign agents. The 80% of Georgians who would like to join the EU, knew how the union would feel about this proposed law.
As expected by many, the EU's Venice Commission expressed great disdain for the bill, as did the United States, both mentioning that it would hurt the nation's ties with Western powers. The ruling party, Georgian Dream, compared the law to the United States's FARA law, while protesters, who received support from the country's current President, compared it to Russia's foreign agents law. All of this unfolds while the staunchly pro-Western former President Mikheil Saakashvili's health declines in prison.
The protests in Tbilisi lasted for five days and got quite tense. Protesters blocked entrances to the parliament, hoping to physically stop the signing of the bill. When the bill was discussed in parliament, fist fights broke out between delegates.
While the protests were almost entirely peaceful, some nights the events culminated in clashes between protesters and law enforcement. Police deterred protesters with water cannons and tear gas, while a video surfaced of Molotov cocktails being launched at police. Protesters eventually tipped over a few cars, including a police car, setting some on fire. A total of 66 arrests were made.
After two nights of fierce protesting, Georgian Dream issued a statement saying they would stand down, and nix the bill. The events were enough to make headlines with several American news outlets like Newsweek, CNN, Fox News, NPR, and more.
In the ensuing days, there were smaller anti-EU protests, which did not receive coverage in Western media.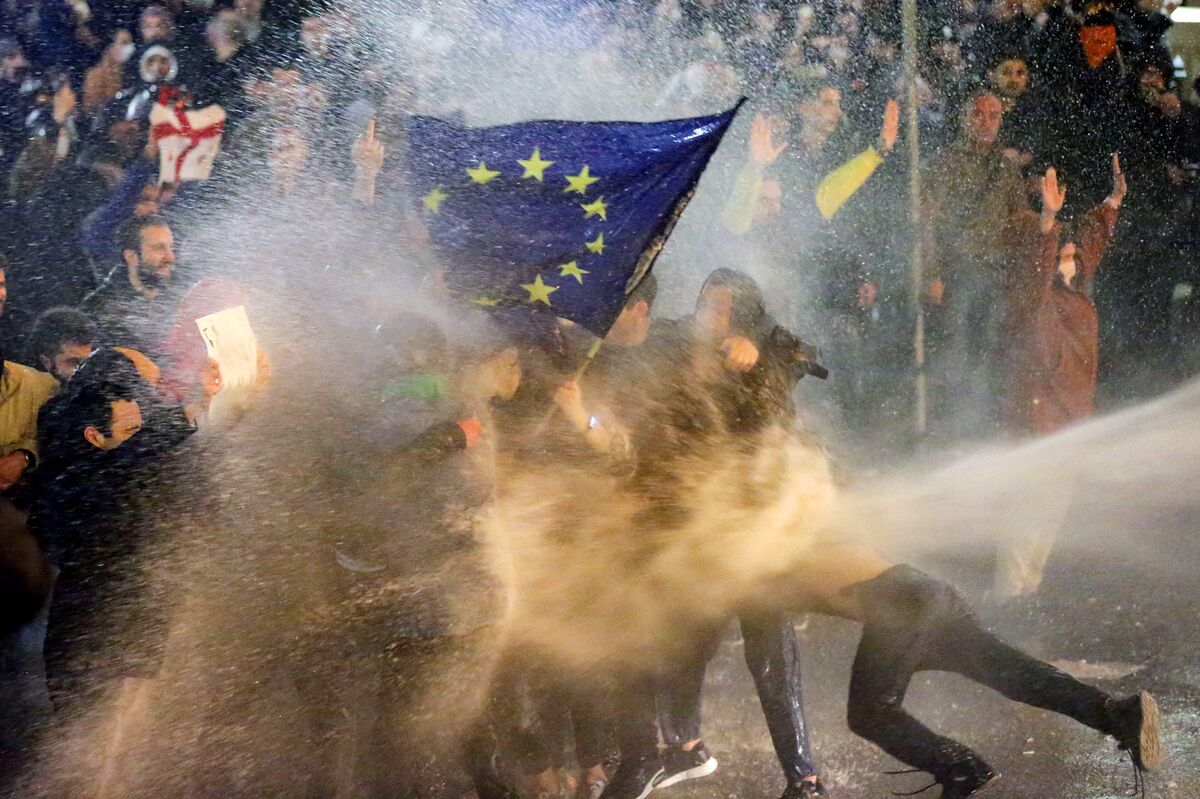 A "Russian Law" or an American One?
Despite the protesters and several media outlets dubbing the proposed bill "Russian law," the Kremlin said they did not believe the law was inspired by their own foreign agents legislation, and that it was similar to FARA in the U.S., which was enacted in 1937.
Perhaps unbeknownst to many Americans, FARA does require anyone who acts on behalf of a "foreign principal" to influence U.S. policy or public opinion to register as a "foreign agent." The act saw only seven prosecutions between 1966 and 2016, but there has been an uptick in recent years. Some recent notable FARA prosecutions include those of Michael Flynn and Paul Manafort.
A similar law also existed within the EU from 2017-2021 when Hungary had enacted its own iteration of a "foreign agents law." Lili Zemplényi, a writer for Hungarian Conservative, argues that the law has been used only for transparency purposes in places like America and Hungary, but also that Russia's foreign agents law has become "repressive."
The day the Georgian law was nixed, Milorad Dodik, the President of the Srpska Republic — a complicated Serb-majority independent political entity within another non-EU, non-NATO country, Bosnia and Herzegovina — proposed a foreign agents law of his own. The proposal was condemned by NATO and EU officials, who continue to ramp up rhetoric regarding Georgia, as recently as this past week.

Media Freedoms and A New Cold War?
All these events come as Georgia continues to toe the line between Russia and the West. It's one of the few remaining countries that American, European, and Russian citizens can all travel to visa-free. It also keeps both blocs as massive trade partners, leaving its economy hanging in the balance. European countries like Moldova (which has recently experienced widespread protests of its own), Montenegro, Bosnia and Herzegovina, and Serbia find themselves in similar situations.
While it wasn't the hugest story in Western media, the protests in Tbilisi and the government bending to the will of the people highlight a few things.
They call attention to NGO and media freedoms; what actually is a "foreign agent," and when is it okay to designate one? But they also call attention to the idea of "Cold War II." The struggle for influence between Russia and the West neither begins nor ends in Ukraine. It's far more complicated than that, geopolitically. While life goes on peacefully in most NATO countries, millions of people worldwide — beyond Ukraine — are caught in the middle, fighting for which power they want as their "big brother."
---
Andy Gorel is a News Curator at AllSides. He has a Center bias.
This piece was reviewed and edited by Managing Editor Henry A. Brechter (Center bias), News Editor Joseph Ratliff (Lean Left bias), and CEO John Gable (Right bias).