Ron DeSantis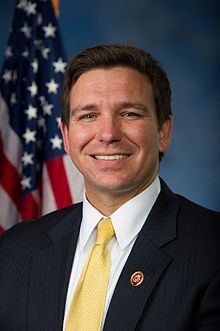 Ron DeSantis is a candidate in the 2024 presidential election. He is running for the Republican nomination.
DeSantis announced his candidacy for the Republican nomination on May 24, 2023.
DeSantis is currently serving his second term as governor of Florida. Previously, he served in the House of Representatives, where he was a founding member of the Freedom Caucus.
DeSantis rose to national prominence during the COVID-19 pandemic for his opposition to lockdowns and vaccine mandates. He has championed a number of policies and initiatives praised by social conservatives pertaining to education, abortion, and immigration.
Our friends at Ballotpedia have full information guides on each 2024 candidate, including Ron DeSantis. Click here to see.
Other Republican Candidates: Donald Trump, Nikki Haley, Vivek Ramaswamy, Asa Hutchinson, Tim Scott, Mike Pence, Chris Christie
From the Center
Park Maitland School denies Chinese ties; parents decry DeSantis' stripping of vouchers
From the Left
DeSantis Makes Bonkers Claims About Florida Schools' Ties to China
From the Right
DeSantis Suspends Four Florida Schools from Scholarship Programs over CCP Ties
Headline Roundup
See how
Florida Politics
,
National Review (News)
and
Axios
cover this story.
Headline Roundup
See how
The Hill
,
Fox News (Online News)
and
Associated Press
cover this story.